Becoming Scientists!
Becoming Scientists!
3 December 2021 (by Ratcliffe (MrsRatcliffe))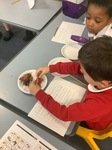 Today the children have been scientists! We have been learning about animals and their diets. The children were given some different "animal pool" by Sally the Silly Scientist and the children had to dissect these to find out if the "poo" belonged to a herbivore, omnivore or carnivore! After this, the children then had to match an animal to each "poo" based on their findings.
Share this: